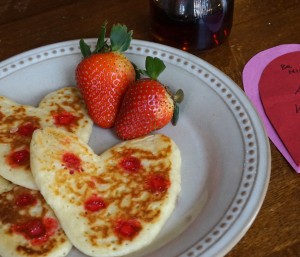 Pancakes are a weekly event in our house.  We almost always make Banana Pancakes.  But on special occasions, we add a little extra fun.
Every year on Valentines Day my kids look forward to Red Hot Heart Pancakes.  I simply shape our normal pancake batter into hearts (by drawing a "v" and letting it spread out on the pan.) Then, simply sprinkle a few red hots into the hearts.
Cinnamon red hots get melty and gooey and turn plain pancakes into a special Valentine treat!
Surprise your little sweethearts (or your big sweetheart!) with Red Hot Pancakes this Valentines Day!
Look for more Valentine's Day ideas this week, including special drinks for your kids and Chocolate Covered Cherry Martinis for the grown-ups!
Have a love-filled week!  🙂
~ Gena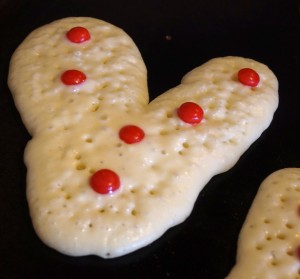 Red Hot Heart Pancakes
Ingredients:
Makes 2 dozen pancakes
2 cups flour
3 t. baking powder
1 t. salt
1/4 cup coconut oil (or other veg. oil.  I like coconut oil for its health benefits)
2 eggs
1 3/4- 2 cups milk, depending on how thick you like the batter.  I like it a little on the thin side.
1 t. vanilla
2 oz. red hots
butter
pure maple syrup
Directions:
Whisk together dry ingredients.  Set aside.
Warm coconut oil in the microwave for approx. 15 seconds, turning it to a liquid state.
In a separate bowl whisk together eggs, milk, oil and vanilla.
Add to dry ingredients.  If too thick, add a little more milk.
Heat griddle or pan over med. heat and add a little butter so pancakes won't stick.
Pour desired amount of batter onto hot griddle.  Sprinkle 4-5 red hots evenly over batter.  Let cook until edges are a little dry and bubbles form, about 1-2 min.  Flip pancakes and cook another 30 seconds or until golden brown on each side.  (red hots will caramelize a little on the pan.  This doesn't bother me and I love the texture it gives the pancakes.  However, you can spoon a little batter on top of candy so that it won't directly contact your pan, if desired.)
Serve with butter and just a splash of pure maple syrup!
Enjoy!!