In honor of girl scout cookie season, I bring you the Thin Mint Martini!  Made with mint and rum, it should technically be called a mojito.  However, for some reason when I add special ingredients and ice into a cocktail shaker and serve it chilled I just have to call it a martini.  Feel free to call it what you like! 🙂
I start with a mint simple syrup then add rum and chocolate liquer.  Shake it up, add an optional splash of cream and serve straight-up in a martini glass.  If you want to serve it as a mojito, muddle some mint in the bottom of a rocks glass with a little rum, and serve the same ingredients over ice.
Happy Happy Hour!!
~ Gena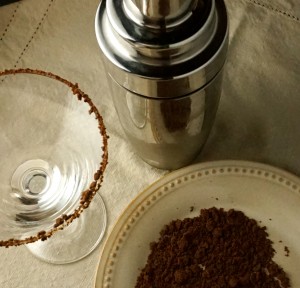 Ingredients:
Makes 2 cocktails
3 oz white rum
3 oz creme de Cocoa or chocolate liquer (Godiva is my favorite!)
3 oz mint simple syrup
splash of cream – optional (if using Godiva, it is already creamy)
chocolate syrup and 2 thin mint cookies, crushed, for rimming
ice
Directions:
Make the mint simple syrup.
Add a squeeze of chocolate syrup (or mint simple syrup) in the shape of a circle onto a plate.  On a separate plate spread out the crushed cookie crumbs.  Rim two martini glasses by twisting glasses into the choc. syrup and then dipping into the crumbs.
Add first three ingredients into a cocktail shaker. Fill with ice.  Shake for 20 seconds or until frosty cold.
Pour into rimmed glasses.  Enjoy!!