Cinnamon rolls are very close to the top of my all-time favorite foods list.  (Strawberries and pure maple syrup top the list as well!)
I've been searching to find the very best cinnamon roll, pretty much my whole life.  I love the ooey -gooey ones, that are buttery and soft all the way through.
Well, I am happy to say, I found them!!!  The best part is that they are easy to make.  I want to give a huge shout out and thank you to Jamielyn at I heart Naptime for sharing these amazing rolls with us.  She has Orange Sweet Rolls as well that you should try.  They're on my list for sure!  I modified her recipe slightly to fit my tastes, but they were perfect the way they were.  I also wanted to make mine the night before because my mornings fly by.
These Night Before Cinnamon Rolls allow you to make them ahead and simply let them rise and bake in the morning.  They are the perfect combination of ooey, gooey, soft, buttery, cinnamon goodness.  I add just a bit of pepper to enhance the cinnamon flavor.  YUM!!!
My oldest said this morning, "these are the best cinnamon rolls I've ever had!"  It makes me smile.
I will be serving these at my Easter brunch!  I hope you'll give them a try!
Happy Baking!  ~ Gena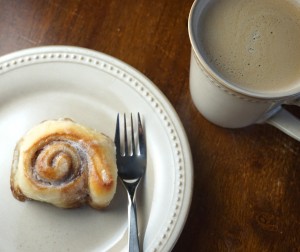 Ingredients:
Makes 12 rolls
1/3 cup warm water
1 T active dry yeast
1 T sugar
5 T unsalted butter, melted
1/4 cup warm milk
1/4 cup sugar
1/2 t. sea salt
2  1/2 cups flour
For Filling:
5 T unsalted butter, softened
1/4 cup sugar
1/4 cup brown sugar
1 T cinnamon
1/2 t. black pepper
For Frosting:
2 T unsalted butter, softened
1 T milk
1 cup powdered sugar
1/2 t. vanilla
Directions:
Stir first three ingredients together in a small bowl.  Cover with a paper towel for 5-10 minutes, or until foamy.
In a large bowl mix well the butter, milk, sugar and salt.  Add yeast mixture and stir.  Stir in 1 cup of flour.  Add 1/2 cup more flour and stir until dough starts to get soft.  Add another 1/2 cup and knead until smooth, about one minute.  Add a little more flour if too sticky.  Cover the bowl with plastic wrap and let dough rise for about 30 min. in a warm place on your counter (the second time I made these, my dough wouldn't rise, so I took Jamielyn's advice of warming the oven to 200 F, shutting it off and letting my dough rise in the oven for 30 min, uncovered.)
Meanwhile, make filling and frosting.  For filling- mix together butter, sugars, cinnamon and pepper in a small bowl and set aside.  For frosting- use a whisk to mix butter, powdered sugar and vanilla.  (I couldn't get it smooth until I used the whisk.) Place frosting in fridge, covered, until ready to use.
After dough has almost doubled, place on a floured surface and knead a few times.  Then roll it with a rolling pin, to approximately a 15 x 10 rectangle.  Make sure your counter has lots of flour, so it won't stick.
Spread the filling evenly over the surface of the dough. (then lick the spoon.. o-m-g!! amazing!)  🙂
Starting with the long edge, beginning on one side, roll up tight ending with the seam side down.
Using a serrated knife, gently cut 1 " wide pieces.  Place into greased 9 x 13 baking dish.
Cover with plastic wrap and let rise in the fridge overnight.
Take out in the morning about one hour before you want to serve them (again, I heated my oven to 200, turned it off and let the rolls rise in the oven, uncovered.)  Rolls should rise and look about like they will when baked (see picture below.)
When ready to bake, preheat oven to 350 F.
Bake for about 14-18 min. or until just golden.
Spread with frosting while warm.
Enjoy!!
This slideshow requires JavaScript.