I'm craving these yummy mini spaghetti pies as I write this.  They were dee-lish!  They made awesome leftovers as well!
I was looking for a way to add a little more protein to our spaghetti, without adding meat.  Being a fan of cottage cheese and learning the health benefits made me realize it was the perfect choice for this recipe.
Cottage cheese is a complete protein, a source of healthy fat and a helpful ingredient in battling diabetes.  (source:  Healthy Eating)  Not to mention, it adds a cheesy, creamy goodness to these little darlings!
I hope you'll enjoy these easy mini spaghetti pies as much as we did!
Happy Cooking!  ~ Gena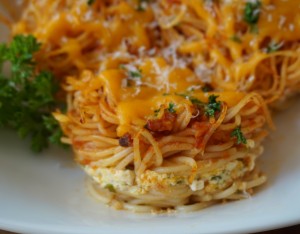 Mini Spaghetti Pies
Ingredients:
Serves 4
1 lb. spaghetti or angel hair pasta
25 oz. marinara **
1 T butter for greasing muffin tin **
1 cups cottage cheese **
1 T fresh parsley, diced
1/2 t. sea salt **
1/2 t. black pepper **
1-2 cups shredded cheddar or mozzarella cheese **
1 egg **
fresh grated Parmesan cheese for topping (optional) **
** Ingredients are used in other recipes from This Week's Menu, starred to help in your planning.  Types of cheese and milk/cream may vary. 🙂
Directions:
Preheat oven to 350° F.  Grease muffin tin with butter.
Cook spaghetti according to package directions.  Drain and add back to pot.  Add marina and stir until well coated.
Meanwhile, make cheese mixture.  Add cottage cheese, egg, parsley, 1 cup cheddar cheese, salt and pepper to a med. bowl and stir to combine.
Using a fork, fill muffin cups a little less than halfway with spaghetti.
Add a thin layer of cheese mixture on top of spaghetti, a little less than a tablespoon.  Pat down firmly with fork to condense it all.
Top with more spaghetti.  I heaped it on, about 1/4 cup.
Top with more cheese and parsley.
Bake for about 15 min. or until cheese is melted and bubbly.
Loosen edges and remove to plates.  Serve hot with fresh grated Parmesan.
Enjoy!!
This slideshow requires JavaScript.