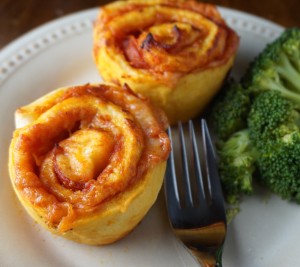 I don't know what it is about these pizza rolls, with all the same ingredients as a slice of pizza, that is so extra yummy. My daughter who has pronounced spaghetti to be her all time favorite food and never a huge pizza fan, last night declared pepperoni pizza rolls her new favorite!! That's why I love finding a new way to serve the same thing. Sometimes just mixing it up a little changes how the flavors come together.
Don't let the homemade dough part of the recipe throw you off. It is the easiest ever dough recipe…. a little flour, yeast, oil, water, mix it, knead it for just a few and let it rise for only 30 minutes! You can pour yourself a glass of wine during that time, check your email and be ready to roll out a little fun.
Rolling out the dough is easy, then slap on some sauce, cheese and pepperonis, roll it up, cut it, put it in a muffin tray and bake it for 15 min. And then get ready to be blown away by how much your family loves them.
These were adapted from Joy the Baker.  Head to her site for more unique and delicious recipes.  She's amazing!
To show you how easy these are, I had my kids make them for you.  🙂 Head to the bottom of this post for more pictures!
We served them with broccoli.  Enjoy!!
Happy Cooking!  ~ Gena
Ingredients:
Serves 4-5 (about 10-12 rolls)
1-3/4 to 2-1/4 cups all-purpose flour
2  1/4 t. rapid rise yeast (usually one envelope)
1-1/2 teaspoons sugar
3/4 teaspoon salt **
2/3 cup very warm water (120° to 130°F) **
3 tablespoons olive oil **
For the Filling:
 1  1/2 cup marinara, plus more for dipping
24 pepperoni slices
1 ½ cup shredded mozzarella cheese **
crushed red pepper flakes (optional)
** Ingredients are used in other recipes from This Week's Menu, starred to help in your planning.  Types of cheese, frozen veggies and pasta may vary. 🙂
Directions:
Preheat oven to 425 F.  Using a paper towel and olive oil, grease the cups in a 12-piece muffin pan.
In a large bowl, whisk together 1 cup flour with the next 3 dry ingredients.  Set aside.
Whisk oil and warm water in a measuring cup and then add to the flour mixture.  Mix for about 1 minute or until well combined.
Slowly add more flour to the dough (using a spoon, it gets a little tough with the whisk) until it becomes soft and forms a ball.  At this point, add some flour to your counter and place your ball of dough in the center, scraping all remnants out of the bowl.  Begin kneading and adding a little more flour as needed so the dough won't be sticky anymore.  Knead gently until smooth, just a few minutes.
Add some olive oil to the glass bowl (that you used to make the dough) and spread around the entire inside surface.  I usually have a little leftover flour and dough still in the bowl but I add the oil right on top of it and up onto the sides.  The dough will rise fine and you won't have to clean another bowl.
Add dough to the greased bowl and cover with plastic wrap.  Let sit on your counter for about 30 minutes.  (try to find a warm area, free from drafts.)  Dough will nearly double in size.
Place dough back onto floured counter and roll into a large rectangle, about 1/4 inch thick, approx. 15 x 10 inches.  Make sure counter is generously floured so dough won't stick.
Evenly spread sauce almost to edges of dough.
Cover entire surface with pepperonis and mozzarella.
Beginning with the long edge, tightly roll up dough to form a long roll.  It is hard to roll all at once, so I did a little on each side and worked my way across slowly.  End with the seam side down.
Cut roll in half, then in half again and then in thirds, giving you 12 equal pieces.  Feel free to cut bigger slices if you only need 10.  If your end pieces seem skimpy, you may want to add a little more sauce and cheese once in the pan.
Place each roll into prepared muffin cups, cut side down.  Bake for about 14-16 minutes or until puffy and golden brown.
Let cool for a few minutes and serve with extra marinara for dipping, crushed red pepper and a side salad, if desired.
Enjoy!!
This slideshow requires JavaScript.