The rain just won't quit here in Colorado, so how about some Slow Cooker Cream of Mushroom Soup to warm your soul?!
One of my childhood favorites, cream of mushroom soup!  It continues to be a favorite, especially now that I've learned to make it in the crock-pot and can use the leftovers in tomorrow's Cheesy Rice and Veggie Bake.
This soup can be made two different ways, choose which is easier for you!  You can slice the mushrooms before they go in the crock pot and leave it a chunkier soup.  Or, you can cook the mushrooms whole and puree the soup in a blender for the last step, a good option when you don't have time to slice them in the morning.
White wine, vegetable broth and butter cook slowly together with mushrooms for a rich, earthy flavor that you'll love.  Serve with a warm, rustic loaf of bread and enjoy!!
Happy Cooking!  ~ Gena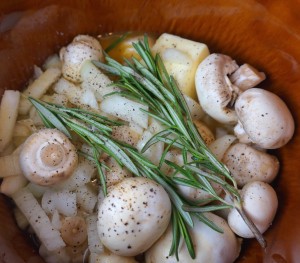 Slow Cooker Cream of Mushroom Soup
Ingredients:
Serves 4-6 (makes 4 servings with 3 cups leftover to be used in tomorrow night's Cheesy Rice and Veggie Bake, if desired.)
1 lb. white mushrooms **
1/2 cup unsalted butter **
1/2 onion, diced **
1 cup white wine
2 cups vegetable broth
2 cups chicken broth
1/2 cup flour
1 t. sea salt **
1/2 t. black pepper **
1 cup milk **
2 sprigs fresh rosemary
** ingredients that are found in other meals from This Week's Menu, starred to help in your planning.
Directions:
Add mushrooms, onions, butter, rosemary, wine and broths to a crock pot.  Cook on low for 4-6 hours or on high for 2-3 hours (crock pots may vary.)
About 30-60 minutes before soup is done, whisk together flour, salt, pepper and milk in a measuring cup until smooth.  Add flour mixture into the crock pot and stir.
Remove rosemary and pour soup into a blender.  Pulse until desired consistency is attained, approximately 20 seconds, holding tight the blender lid.  (I like to keep ours a little on the chunky side.) This may need to be done in batches.  Return soup to crock pot.
Set aside 2 cups of soup and seal in an airtight container in the fridge to be used in tomorrow night's Broccoli, Rice and Mushroom Bake.
Serve with a slice of warm bread!
Enjoy!!