As a kid I loved Quaker Instant Oatmeal.  I looked forward to trying all the different flavors.  But Maple and Brown Sugar was my favorite!
I still love the combo of hearty oats with pure maple syrup and rich brown sugar!!  Yummmmm!!!
This cookie brings those simple flavors together again.  I bring them to friends, teachers, our favorite bus-driver and parties. 🙂 They are well loved!  I hope you will enjoy the soft texture and rich flavors of Maple Brown Sugar Oatmeal Cookies too!
Happy Baking!  ~ Gena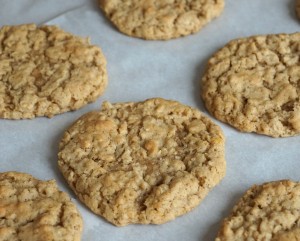 Maple Brown Sugar Oatmeal Cookies
Ingredients:
Makes 34 cookies
2 sticks butter, softened
1 cup sugar
1/2 cup brown sugar
2 eggs
2 T maple syrup
2 cups flour
2 cups quick oats
1 T baking powder
1 t. baking soda
1 t. sea salt
Maple Glaze (optional)
1 cup powdered sugar
2 T pure maple syrup
1/4 cup cream
Directions:
Preheat oven to 350 F.  Line a cookie sheet with parchment paper.
In a large bowl, mix together the flour, oats, baking powder, baking soda and salt.  Set aside.
Cream butter and both sugars in the bowl of a mixer fixed with the paddle attachment, about 2 minutes or until smooth.
Add eggs to creamed mixture, one at a time and mix on low until well combined, about 1 min.
Add maple syrup and continue mixing until incorporated.
Add dry mixture and mix until just wet.
Drop by spoonfuls onto cookie sheet, spaced about 2″ apart.
Bake for 12 min. or until lightly golden brown.
Let stand for 2 min. before transferring to a cooling rack.
For glaze, stir together powdered sugar, syrup and cream until smooth.  Spread on cooled cookies.
Enjoy!!