Molten Chocolate Cakes are the perfect finish to your Valentine dinner.
Chocolatey, melty, molten goodness!
You can prepare the batter ahead, making them a great choice for an easy dessert.  Keep refrigerated until 1 hour before you're ready to bake.  Let warm on counter, bake and serve warm!
Super easy and so decadent!
Happy Valentine's Day!!
~ Gena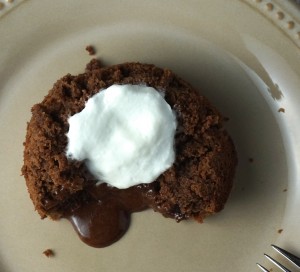 Molten Chocolate Cakes
Ingredients:
Makes 6 large servings or 16 muffin sized cakes
1 cup semi-sweet chocolate chips
1  1/2 sticks unsalted butter (3/4 cup)
1  1/2 cups powdered sugar
3 eggs
3 egg yolks
3/4 cup flour
butter for greasing ramekins
For homemade whipped cream
1 cup whipping cream
3 T sugar
Directions:
Preheat oven to 425 F.
Butter individual ramekins or a muffin tin.  If using ramekins, place on a baking sheet.
In a microwave safe bowl, melt butter and chocolate chips for 1 minute.  Stir until chips are melted and smooth.
Whisk in sugar.
Mix in eggs and egg yolks.
Stir in flour until mostly smooth (a few little lumps are okay)
Pour into ramekins or muffin tin, filling about 2/3 full.
Bake for 14 min. if using larger ramekins or 10 min. if using muffin tins.  Or until edges are firm and middle is soft.
Let cool for one minute.  Loosen by running a knife around the edge and invert onto serving plate.  Serve warm with homemade whipped cream.
I modified this recipe from Kraft.com  – hope you like my version!
For homemade whipped cream:
Beat whipping cream and sugar on high speed in an electric mixer or using beaters.  Or you can whisk briskly.  I start on med. speed to reduce splatter.  As it thickens, turn to high speed and watch closely, or you'll end up with butter.  About 2 minutes or until you reach desired consistency.
Yum!! Homemade whipped cream is the best!!
Enjoy!