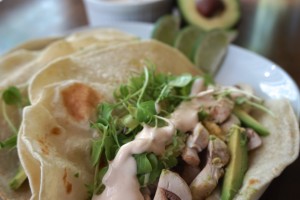 This sauce goes wonderful on many Mexican dishes, but I especially love it on Veggie Soft Tacos.
It gets its smoky, chipotle flavor from Adobo peppers.  Just a little of the sauce adds quite a bit of heat.  Adjust to your liking!
Ingredients:
Makes about 1 cup
1 cup sour cream
2 t. fresh squeezed lime (about 1/4 of a lime)
1/2 T sauce from 1 can Adobo Chipotle Peppers
1/8 t. sea salt
Directions:
Mix all ingredients together.
Enjoy!!